Jun 19, 2013
Comments Off

on LSU's Ultimate Tailgater Design is Available Now.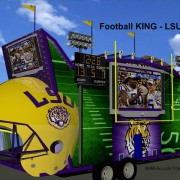 Brad Strickland and I have been working on this special project to bring the "Ultimate Tailgating" experience to college and professional sports. Here is the latest Smart, Small, Sustainable, Structure that should blow your socks off. The design includes a complete graphics package for the LSU Tigers. (also available in your team's colors)
The unit shown is 24′ long, includes 3 outdoor, bright, big screen TVs (60″, 70″ and 80″), LED lighting system that is programmable to "dance" when your team scores, an audio system that will rock your world and keep the bystanders in awe, a pull out BBQ pit from beneath the helmet with its own condiment bar and drink cooler. Additional storage under the unit with fuel and generator capacity to run the big show as long as you can party.
The ladies will like their own bathroom to freshen up while the guys have their own "quick trip" bathroom as well. There is a stainless steel kitchen inside with large refrigeration capacity, it's own ice maker/storage bin and another section for watching a 4th TV inside from comfortable seating.
Using technology and creativity to build an "event buster" like this or a tiny house to live in is what Sunconomy.com does for it's customers.