May 25, 2018
Comments Off

on 3D Printed Concrete House Design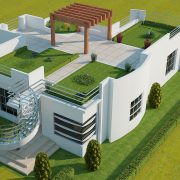 This 3D printed concrete home know as the "Genesis model" is a 3 bedroom 2 bath house with detached garage, solar, wind, battery backup, rain water catchment is the design I have decided to build first. I can build it in Lago Vista, just outside of Austin, TX for $289,000 (plus lot, permit and lot development costs) This will be the first home in the USA to be designed, engineered, permitted, built, appraised and sold proving our technology, cement and designs that are not only beautiful but highly livable. Sunconomy will build homes that:
Last for centuries, not decades

Are affordable to homeowners

(notice I didn't say cheap)

Can withstand 220 MPH wind

Can withstand 8.0+ earthquakes

Won't burn to the ground like wood homes will

Has very low maintenance cost for homeowner

Can lower hazard insurance cost for fire, hail, wind, earthquake and flood thru design and engineering

Offers renewable energy options for Net Zero reducing energy bills significantly

Offers rain water catchment systems designed for draught areas

Include IoT and technology features integrated for practical application of devices and services
I would love your feedback. Contact me if you would like one built for you. Sign up for updates just above on the right.